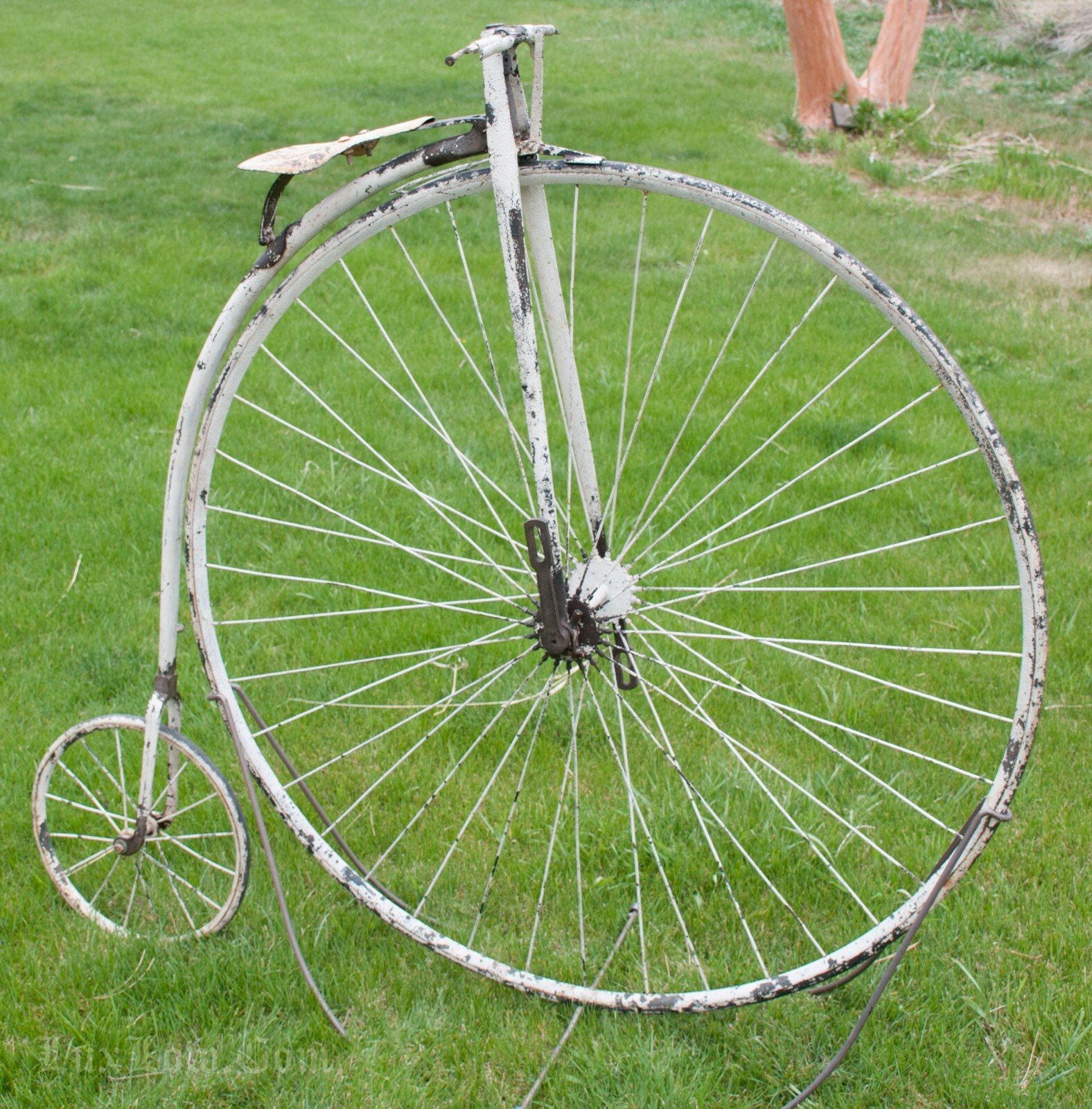 48" Antique Columbia Pope Penny Farthing Bike Vintage HighWheel Ordinary Bicycle
(Used - 3200 USD)
Columbia bicycles have ruled the American bicycle market for many years. It was either the high wheeler of the 18th century or the Summit of 2011; they all have well served the nation in every era of their history. They served the people from the depression cohort by giving them a cheap mode of transportation in the time of economic downturn.
They served the Army needs in both world wars, as basic patrolling transportation for sergeants. They served baby boomers in their day-to-day needs, and until nowadays, Columbia is a status symbol for their sophistication and comfortable use.
History in Brief
Albert Pope was a Captain in the Union Army during the American Civil War. He saw a newfangled contraption called a bicycle at an American Centennial Exposition in 1876. Being quite a visionary, he immediately recognized the future potential for the device. In 1877, he established the Pope Manufacturing Co. in Boston, Massachusetts, and began to import and build high-wheeled bicycles.
Pope's company was not set up for mass production and his first bikes were priced at an astronomical $313, a huge amount of money at that time. Pope bought the original patent for the bicycle from Pierre Lallement, who had moved to the U.S., and proceeded to buy up every bicycle-related patent he could get his hands on. He made a fortune charging other American bike companies royalties to use designs he owned the rights to.
Columbia bicycles were first made by The Pope Manufacturing Company from its inception in 1877.
Columbia bicycles were kept under production in their Westfield plant under the name of Westfield Manufacturing Company.
The consistent research and development in the cycling industry made them a market leader, and they are still in production with a continued legacy of over 150 years of history.

Innovation in the Bicycle Market
Being the oldest makers of the bicycle, Columbia faced competition from companies like Shelby and Hoffman at the beginning of the 19th century. Columbia took care of this building competition by making robust innovations in their bicycle designs and features.
The introduction of ball bearing and hollow steel frame is attributed to Pope Manufacturing. These innovations in the design of Columbia bicycles gave a lightweight bicycle to the customers, which was easy to handle, and faster to move.
Their robust marketing campaign was backed by sponsorships to the bicycle clubs, bicycle race clubs, and their race championships. This was an innovative marketing strategy that helped Columbia capture the market well in the presence of its competitors.

Columbia Becomes the First American Bike Company
In 1878, Pope opened a larger showroom and a bicycle riding school in Boston. He approached the Weed Sewing Machine Co. in Hartford, Connecticut, with the idea of starting up a bicycle shop in their factory. The Columbia Bicycle Company became the first American bicycle manufacturer. The following year, the company's first bike, the Standard Columbia high-wheeler, was released and retailed for $125. In 1888, the company started to manufacture and sell hard tired safety bicycles, followed by safety bicycles equipped with pneumatic tires in 1892.
Pope the Cycling Advocate
Pope became a leading cycling advocate and a leader in the Good Roads movement that pressured the U.S. government to make roads safer between 1870 and the 1920s. He also spent a lot of money promoting bike clubs, bicycling journals, and races.
Westfield Manufacturing Co.
In 1914, Pope Manufacturing Co. moved its main offices to Westfield, Massachusetts. The company went through a bankruptcy and re-emerged as the Westfield Manufacturing Co. Westfield continued to make Columbia branded bikes, but also bikes for other companies including the amazing Sears Elgin Bluebird (1935 – 1938), and Blackhawk (1934 – 1936).
Columbia Goes to War
It may not be wrong if one say that the high reputation seen by the Columbia bicycle today is due to their widespread use in the World War II by United States Army personnel.
Did you know…?
Did you know that the Columbia bicycle was one of the most important communication tools available to the US military?
Columbia bicycles were used for the efficient dispatching of information as well as intelligence gathering and transmission by the US Army's signal corps.
If you manage to get your hands on a Columbia military bike, you might just find yourself in possession of a machine that helped to change the course of world events.

During the Second World War, Columbia and Huffman built bikes for the US military. Military bikes are very rare and collectible these days and there are a lot of fakes, so buyers beware.
Westfield Manufacturing Company produced thousands of bicycles for military use in the era of 1940's.
You must have seen those vintage Columbia bicycles in military shows across various states on Veteran day parade. The olive green chrome frame equipped with metallic rims, tool kit and front light are the distinguishing features of a military Westfield bicycle. Both male and female versions of the bicycle were made for military purposes. Due to their sturdier finish, they well served the beating of the rugged wartime and are even found in operation by Veterans on special occasions.
Collectible Columbia Bicycles
A company with a history as long as Columbia's is likely to have an extensive product line. As would be expected, any Columbia bicycle made before 1900 is highly collectible. Wood wheeled bikes made from the late 1890s to the early 1930s are also valuable, with the Motobike models being the most highly sought after. These bikes were styled after motorcycles and were designed to appeal to teenaged boys. Columbia's arch bar and racing models from this era are also highly desirable.
Pre and post-war Columbia balloon tire bikes are in high demand. Deluxe models had a speedometer and clock mounted in a "dashboard," and a combination horn/headlight mounted on the front fender. Springer forks and an original headlight and tail light increase the value of a bike significantly.
In general, Columbia bicycles made for women are worth 1/3 to ½ the price of a comparable man's bike. Girls tended to take better care of their bikes, and more of them survived, so they are more common. Most bike collectors are also men, and it follows that they are more likely to buy a man's bike.
Famous Models
Columbia produced many hallmark bicycles across history. The Elgin Bluebird is one of those vintage Columbia bicycles which you may find even today at a price starting from $500. The 1953 Five Star Superb motorbike is also a hallmark bicycle form the antique Columbia bicycle collection. The Columbia Elgin Blackhawk and Columbia Falcon are few other vintage Columbia bicycles still praised by the bicycle lovers.
Today's Columbia Bicycles
What was once the biggest American bicycle manufacturer still exists. The Columbia Manufacturing Co. doesn't build bicycles anymore but is an importer of bikes sold in department stores.
"I don't know the key to success, but the key to failure is trying to please everybody."
Bill Cosby