Find a Vintage Trek Bicycle on eBay.com
The euphoria of our youth is the strongest memory of all time. A countryside picnic with family and friends, or learning how to ride a bicycle – these all were parts of our childhood.
The joy of riding out on an old Trek bicycle under the cozy sunshine in winters was a journey for a lifetime. These were all the joys you had in the past, and now, when you see a bunch of passing by chaps, it is a great joy to recall these memories.
If you ever owned a Trek bicycle, then this article will help you recall all those memories, as we pay tribute to those old trek bicycles.
To get a better understanding of these precious bicycles, we need first to take a look at the history of the Trek company.
The Trek Company
Among the vintage bicycle makers, the Trek company is relatively young. The company was incorporated only on 197, and started its operation with manufacturing of bicycle frames on 1976. Trek got immense fame as sturdy bicycle makers in the '80s, and its bicycles became a must-have for the youth. The later use of these high quality, well-designed bicycles in cross-country events and championships made them a masterpiece sports bicycles.
Did you know…?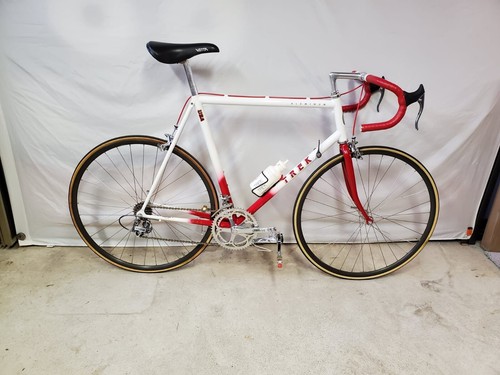 Did you know that Trek was one of the first bicycle companies to use bonded aluminum in its bicycles?
They built the Trek 2000 with a bonded aluminum frame in 1985 using technology adopted from the aerospace industry, resulting in a more lightweight bicycle. This commitment to light weights and fast speeds has been a consistent trend throughout Trek's history as evidenced by their world-class carbon fiber bikes.

Vintage Trek bicycle – a Symbol of Classic Collection
Those 80's style bicycles are still famous, but I prefer to call them old Trek bicycles because they are much younger than real vintage bicycles of makers such as Huffy.bicycles. Many vintage Trek bicycles are not being used for a long time, and are only part of the classic collection of bicycles. Still, some well-maintained or modified Trek bicycles of the '80s are in use by veterans, who love to go for a morning ride on their bikes, to soak vitamin D and to give their muscles more of physical movement.
Trek Touring 520 – The Best Buy
The Trek 520 (aka T520) was once the best touring bicycle made by any maker in America. This model was first built in 1983, and got immense fame throughout the globe mainly among bicycle touring lovers and other long distance travelers.
No "Trek Touring,Trek 520,Trek 720" (All condition) found on eBay(US)
These bicycles had undergone many changes since than, but are still renowned vintage Trek bicycle. Let us look at some of its features that distinguish the Trek Touring bicycle from other touring bikes:
Tires: These old Trek bicycles come with Bontrager Lite Hard-Case tires, which are known for their durability and long life for thousands of kilometers. The tough tire made these bicycles perfect for all sort of surfaces.
Rack: The rack is a sturdy fit with a maximum weight carrying facility of 50lbs, which is quite lot of load for these compact make old Trek bicycles. This high weight bearing ability makes them a perfect touring buddy.
Fenders: The fenders are sturdy fit that give you freedom of bicycling through wet and muddy surfaces with same ease. They remain sturdy on the bumpy rides and keep the mud away from tires and the rider in the damp places.
Chainstay: The chainstay of the Trek 520 underwent changes in length for its various models in various years. This is the reason you see various models of old Trek bicycles now a days.
Saddle: The saddle of trek 520 remained almost same throughout decades. The saddle is crowned and squashed to give a comfortable posture for the rider.
Buying a Vintage Trek Bicycle
Being most durable and most demanded vintage Trek bicycle, the price of Trek 520 is higher than its predecessors and successors. You can still get a well-maintained vintage Trek touring bicycle, but you will have to pay more than a thousand dollars for the toy.
Useful links
You are invited to visit my page about the Trek Company and about Trek bicycles today.
"I don't know the key to success, but the key to failure is trying to please everybody."
Bill Cosby