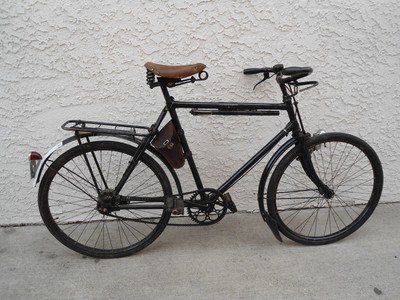 Find a Swiss Army Bicycle on eBay.com
The Swiss Army Bicycle, known under the technical term of M0-5 (and later M0-93), has been around since the early 1900s. Its name originates from its primary purpose: It was used by the Swiss Army from 1905 to the 1990s when the Swiss Bicycle Infantry was phased-out of service.
Swiss Army Bicycle History
Starting in the early twentieth century, the Swiss army adopted bicycles for patrolling and reserve duty members. In this era, all of the great powers were using bicycles for sections of their infantries. After warfare was more mechanized during World War I, most military bicycles were discontinued, except for those used by the Swiss. They expanded their bicycle patrols by introducing better bicycles. After 1946 these bicycles became more modern, lighter, and easier to use, and this model remained in use until 1995!
Did you know…?
Did you know that a member of the Swiss bicycle patrol guard sometimes had to carry as much as 70 pounds of equipment on his bicycle?
This means that the patrol guards had to be extremely fit, especially considering that the older versions of the Swiss Army Bike
had only one gear. The bicycles also had to be extremely sturdy!

These bicycles are most famous for the large carrying case fits inside the frame of the bicycle. This case was often used to carry small weapons and maps. In addition to this carrying case, the Swiss Army bicycle was fitted with a bag on the front, intended to carry a battle-helmet. A rolled blanket was often strapped to the handlebars, a rear rack, and a bread bag for carrying food and other rations.
This bicycle was efficient: It was not designed to be flashy. Most Swiss Army bicycles were painted an all-over basic matte black with brown, black, or drab olive finishes and accessories. Later models were black, brown, or drab olive as an overall color.
Of course, no military bicycle would be complete without an area for bicycle repair tools. This bicycle had a small tool hold behind the seat-tube area capable of carrying enough tools to perform basic bicycle maintenance or "field strip" any bicycle if necessary. These bicycles were so versatile; they were considered a valuable piece of military hardware.
Purchasing a Swiss Army Bicycle
Swiss Army bikes fetch some of the highest prices for vintage or antique bicycles on the market today. Their prices usually start around $1000.00, but they can hover near the $2000.00 range if they are in mint condition.
Swiss Army MO-5 bicycles are extremely difficult to find in good working condition, let alone in mint condition. They are especially valuable if you can find them with their most recognizable parts, including the stock leather military frame bags, and smaller front and rear pouch bags.
Swiss Army also made a Streamline series of bicycles without all of the carrying cases, equipped with a front basket instead, but it isn't as valuable in a vintage collection as the original bicycles. Regardless, it is still a rare find, and still a valuable piece for any vintage bicycle collection.

Last Word About The Swiss Army Bicycle
In 1995, the Swiss disbanded their bicycle patrols, but their fine bicycles remain as a tribute to the army's ingenuity and craftsmanship. They are known as sturdy, well-built bicycles that have withstood the test of time.
Books About The Swiss Army Bicycle
"I don't know the key to success, but the key to failure is trying to please everybody."
Bill Cosby