No "radio bike" (All condition) found on eBay(US)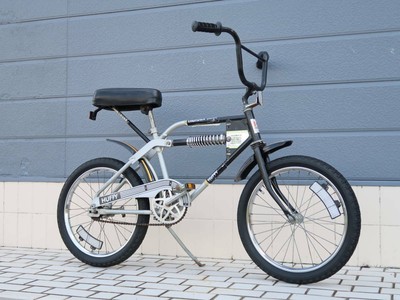 The amazing Huffy Radiobike combined two of America's passions during the mid 1950's – the automobile and radio. The bike was introduced in 1955, and immediately became the ultimate object of bike envy for kids everywhere. An advertisement in the November 1955 issue of Life magazine called the Radiobike "one of those world-of-the-future gadgets that you read about." Kids crowded around department store windows to get their first look at one these technological marvels. The Huffy Radiobike was available for two or three years and only about 8500 were built, making it less common than a lot of other cruisers from that era.
Features
The Huffy Radiobike was like a conventional cruiser except for the fully functional rain, shock, and tamper-proof vacuum tube radio that was cleverly tucked away in the faux gas tank.
The radio was turned on and off with a key, just like a car ignition. The on/off switch, volume control, and tuning knobs were at the right side of the gas tank within easy reach of the rider. The radio was powered by a battery pack mounted on the rear rack, right next to a telescoping antenna. A sweeping truss rod helped to protect the forks from the inevitable impacts with curbs, dogs, and parked cars.
Other features that set the bike apart were the reflective hubs with their red glass jewel centers, and a beautiful, cigar-shaped headlight that looked like a rocket mounted on the front fender. The bike used thinner tires than most other cruisers – 26″ x 1.75″ rather than the usual 26″ x 2.125." Recommended tire pressure was 45 lbs which pushed gas station tire pumps to the limit.
The Huffy Radiobike was available as a single-speed, or in a multispeed version that used a trigger operated Bendix two speed hub. It was available in three colors – Flamboyant Red with black and white trim, Flamboyant Emerald Green with white and red trim, and Flamboyant Blue with white and red trim.
Current Prices
As with any vintage bike, the value of a Huffy Radiobike is highly dependent on the condition. Complete, unrestored bikes with a working radio sell for between $1500 and $2500. Price also varies with color. Red is most common, followed by blue. Green Radiobikes are very rare. Battery packs are no longer available, but if you have basic electronic aptitude it's easy to make a new one.
With its mix of 50's cruiser cool, space-age styling elements, and rock and roll technology, the Huffy Radiobike was, and still is an amazing ride.
Find more Huffy Vintage Bicycles on eBay.com