v
Antique Bicycle Parts on eBay.com
Collecting antique bicycles is an obsession. Some are collecting not only complete bicycles but even Antique Bicycle Parts. In addition to being valuable on their own accord, some people restore vintage bicycle parts without the bicycle, and some people even use antique and vintage bicycle parts as jewelry.
Value
Did you know…?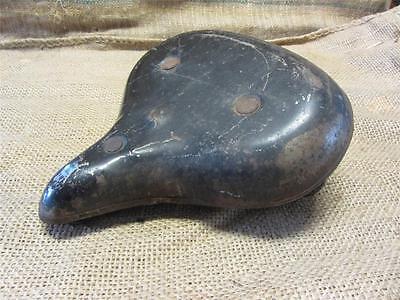 Did you know that the man credited with inventing the pneumatic tire is John Dunlop?
He is thought to have been the first inventor to recognize the potential of rubber as a tire-making material because of its resilience and superb grip. Edouard Michelin is often mistakenly thought of as the inventor of the pneumatic tire when he is in fact the inventor of the detachable tire.

Antique and vintage bicycle parts that have a value on their own are more common than you may think. Vintage frames, seats, and forks are all precious vintage bicycle parts. Many people collect just these parts and never restore them as part of a bicycle.
Also, accessories are precious bicycle parts. For instance, the working lights on vintage Schwinn bicycles, or the saddlebags from a vintage Schwinn Harley Wheelman. These are collector's items, even without the bicycle.
Restoring Bicycle Parts
Many people collect and restore antique and vintage bicycle parts without restoring antique bicycles. Often people restore vintage nameplates, wingnuts, and rare, vintage hubs. These parts are collector's items all their own, even without the bicycle to which they once belonged.
Vintage Bicycle Art
There is a lot of modern art and even furniture made out of vintage bicycle parts. From chairs to shelves and tables to coat racks, as well as original pieces of art. These pieces are exciting and great pieces for people who love antique bicycles and bicycle parts.
Where Can I Find Antique Bicycle Parts
CyclArt
Cycl-Art is a great site for antique and vintage bicycle parts. This company creates art out of old bicycle parts, but they restore vintage bicycle parts as well. This site is not a place where you can order antique bicycle parts, but they have some great information and some amazing pieces of art made out of old and used bicycle parts.
eBay
Of course, you can always get antique and vintage bicycle parts on . It is one of the biggest carriers of these type of bicycle parts. They even have a guide regarding buying antique and used bicycle parts to help you make the best purchases, and to help you avoid buying parts that aren't valuable or that are worn out.
Old Spokes Home
Old Spokes Home has a huge selection of used, reconditioned or restored bicycle parts. They are very knowledgeable regarding vintage bicycles and antique bicycle parts. A great thing about this site is they employ bicycle enthusiasts, so you're sure to find someone who shares your passion for cycling, whether it's vintage bicycles or parts.
"I don't know the key to success, but the key to failure is trying to please everybody."
Bill Cosby