Vintage Bicycles for sale on www.american-vintage-bicycles.com
If you are looking for vintage bicycles for sale without the need to pay commision, you've came to the right place. You will find here a list of many vintage bikes, especially that are made in the US, that other visitors wants to sell.
If you are interested in selling vintage bicycles you are invited to post your offer (including images and detailed information) by using the Contact Me form. I will post them on this page for you.
Quick Notes:
There is NO commission charge from either the buyer nor the seller!
At the same time I am not taking any responsibility for the products being displayed.
After your vintage bicycle has been sold, please let me know and I will remove it from the list of "bicycles for sale", and keep them on the "sold bicycles" list.
Until recently, I did not have any obsession with collecting vintage and antique bicycles. Although I am passionate about bicycles and bicycling, for many years, I was concentrated on the new trends in the cycling world. I even had no interest in knowing too much about the history of bicycles.
Only recently, after starting my bicycle riding, I've started to learn about old bicycles and vintage bikes (these two are different. I will tell you why later). I even tried to buy myself a beautiful Elgin bicycle from eBay, but I did not win the bid. Take a look at how beautiful it is:
Why Collecting Vintage Bicycles?
Collecting vintage items such as old cars, motorcycles and bicycles is not very common. Most of us have a greater interest in new gadgets and new technology, rather than on the old. Still, vintage items have their beauty and value. The few people that are collecting vintage bicycles enjoy doing that for what these antique bicycles are.
Collecting Vintage Bicycles
Vintage and old bikes are beautiful. They are romantic; they bring us memories from the "good old days" – from OUR good old childhood days. Vintage bikes are an example of fine engineering design and work. They are almost a piece of art. We can identify the simple and practical design, yet still with a great emphasis on beauty and style. They are made of the best materials that were available at their times. They are usually quite heavy, but will last for years. In many cases, they were made by hand, especially the antique bikes. This quality workmanship is not available today.
Vintage Bicycle for Daily Use
If you are looking for a bicycle for your regular use and your budget restricts you to less than a thousand dollars, then the vintage bicycle is the best bet for you. You may find a vintage bicycle for sale in a very handsome amount without causing dent to your budget. These vintage bicycles are durable for the day-to-day use of going to college, evening ride in the park, fitness trailing use, and some other routine usage.
You may find slightly used vintage bicycles for sale in a very reasonable amount with almost $500 to $1000 lower price to the brand new bicycle of the same model. All it takes is a bit of a search on online forums and auction sites.
Factors To Consider
When looking for vintage bicycles for sale, there are two main questions you should ask yourself: what the purpose of buying these bicycles is, and how much you are willing to spend on this vintage bicycle. Let's start with the first question.
If you are looking for a classic version of a bicycle for your vintage collection, then you need to have a strong pocket. A real vintage bicycle may costs more than $1000, depending upon the manufacturer and year of make. The older the bicycle is the more antique it gets and costs more to the buyer.
Let's discuss few important things you need to look into when looking for a vintage bicycle for sale and before making a purchase
Tip: Make sure you can tell the difference between a real and replica vintage bicycle.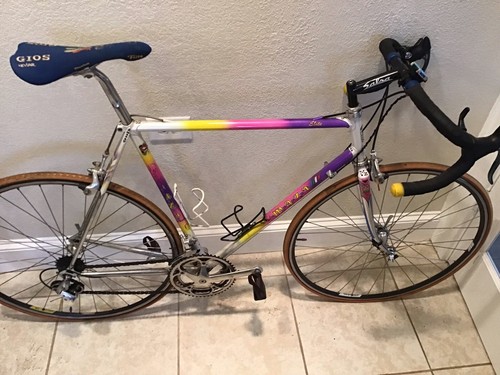 There are a number of companies manufacturing highly convincing replicas of classic vintage bicycles. If you're looking for an authentic vintage bicycle, you need to make sure that whatever you're buying is not a replica. For example, a vintage bike's serial number can often be used to ascertain its authenticity.

Who is The Maker: The manufacturer is the most important criterion that adds worth to the collectable item. The bicycles of brands like Shelby, Westfield, Huffman and Trek are some of the highly paid vintage bicycles for sale.

Even a rust free emblem of the maker adds considerable amount in the price of a vintage bicycle for sale.

What is The Model: Specific models have big importance as collectable item than other models of the same brand. For example, the Trek 520 touring bicycle is expensive than any other touring bicycle of the vintage Trek series.

Some particular models of less known brands are paid more than other models. It is because of the durability or antiqueness of the model.

What Modifications Were Made: Lesser there are modifications in the bicycle; more is the price of it. A vintage bicycle with fewer modifications and more genuine or company fitted condition is priced higher than the modified and even re-painted bicycle of the same model.

This is however not a universal rule, some modifications like addition of vintage front light or vintage fuel tank can even increase the worth of the bicycle due to the separate importance of those collectible items in itself.
About This Guide
In this guide you will find all the required information that will help you sell your vintage bicycle or buy one, in the most efficient and enjoyable way.
We all know quite well how to buy new items, such as clothes, cellular phones, and even cars, but when it comes to buying collectible items – things start to be more complex. The main reason for this complexity is that each item is unique, and there is no "list price" for each vintage bicycle on the market. In most cases, the actual price is mainly influences by the market forces, i.e., supply and demand. As the bicycle is more rare and hard to find, its price is higher. Still, there are some basic steps that you can take to become an informed vintage bicycle Seller, or Buyer.
Collecting Antique and Vintage Bicycles
When buying a vintage bicycle, first consider important things like has the bike been restored or serviced. These factors may affect the price of the bicycle. The objective is to know the proper price of the bicycle to prevent being ripped off or not appearing dishonest when trying to sell it.
Vintage bicycles will not have every original part intact. New gear and brake cables rust and wear out. These new parts are essential to the safety of the bicycle. Another benefit of a bicycle buying guide is knowing how to find a licensed bicycle mechanic. A mechanic knows how to properly service a vintage bicycle to ensure that it is still safe to ride. A properly working bicycle will increase in value as it ages.
Vintage Bicycles For Sale on eBay
Articles about Vintage Bicycles For Sale
Menotomy Bicycles – This is a private company that was established in 1995, mainly as a bicycle dealer. This company deals with vintage bicycles, as well as with recumbent and performance bikes, cycling accessories, etc. Read more.
Vintage Folding Bicycles for Sale – There are many vintage folding bicycles for sale on various online stores. To get a good bargain, there are few things you need to consider before making the purchase. Read more.
Dave's Vintage Bicycle – Daves vintage bicycle is considered one of the leading experts in bicycle nostalgia and is frequently quoted in other online sources on vintage bicycles and bicycle culture.
Useful Links
"I don't know the key to success, but the key to failure is trying to please everybody."
Bill Cosby