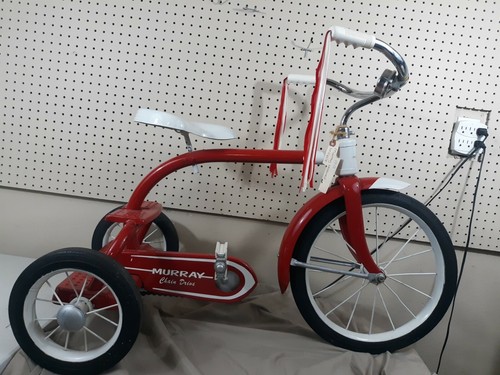 Vintage 1948 Restored MURRAY CHAIN DRIVE TRICYCLE Red Trike
(Used - 425 USD)
A Murray Tricycle is one of the most famous and sought after tricycles when it comes to the world of vintage bicycles and tricycles. Although they're readily available through auction sites such as eBay, these tricycles still fetch a great price in mint condition, they're so much fun to add to a collection, and they are such a nostalgic piece, particularly for older generations.
The Murray Company
The Murray Company was originally founded as the Murray Ohio Manufacturing Company. It was founded in the early 1900s in Cleveland, Ohio, and began making tricycles in 1923.
The company was originally founded to supply parts such as fenders, gas tanks, and hoods for the American automobile industry. In 1923, the Murray Company started to include a line of children's toy cars that eventually became an American icon.
After such great success in the toy industry, Murray manufactured toy automobiles and airplanes for children, both of which were foot-propelled, as well as steel coaster wagons. It also produced the company's first bicycle, the Mercury. With these successes came the production of Murray's first tricycle.
The Murray tricycle was a huge success, requiring the company to relocate from Ohio to a much bigger manufacturing facility in Tennessee. Over the next several decades, this factory grew to be one of the biggest in the United States, and still is today.
Did you know…?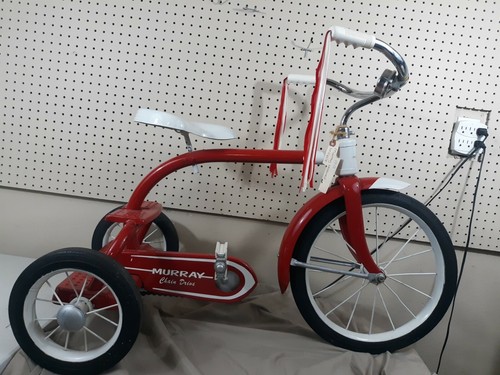 Did you know that one distinguishing feature of a Murray tricycle is a horseshoe-shaped set of handlebars?
These handlebars are much easier for children to steer than traditional straight handlebars. Thus, if you'd like to teach your child to ride a tricycle, a Murray tricycle
is a fantastic choice.

Murray Vintage Tricycles
Many Murray vintage tricycles can be very valuable, but it's important to know if you're getting an official Murray or a replica. Many Murray tricycles have hubcaps with a letter "M" stamped inside a circle. This is a great way to determine on an otherwise unmarked tricycle whether it's a Murray or not.
In 1960, Murray was the first company to introduce the rear two-step design for tricycles. It's an easy way to determine whether a tricycle was made before or after 1960.
In the 1970s Murray came out with a new tricycle they called the Big Mack. It had one thick tube that acted as the head tube and was the makeup of the mainframe. Murray made many variations of this tricycle style.
Purchasing a Murray Vintage Tricycle
There are a lot of Murray vintage Tricycles on the market because they were so popular and plentiful. Some of these tricycles date back as far as the 1930s. These bicycles range in price from around $75.00 up to over $200.00 depending upon the type, year, and condition. For more information, see the following Murray vintage Tricycles on eBay:
Conclusion
The Murray Company is still in production today, although they produce different types of farm equipment, not so many tricycles. Many parents remember owning Murray tricycles, and they want to pass that pleasure down to their children. Fortunately, Murray's tricycles were built so well, and they're so sturdy, this is possible in many situations.
For those that have never owned a Murray tricycle, it's a vintage purchase to consider.
"I don't know the key to success, but the key to failure is trying to please everybody."
Bill Cosby