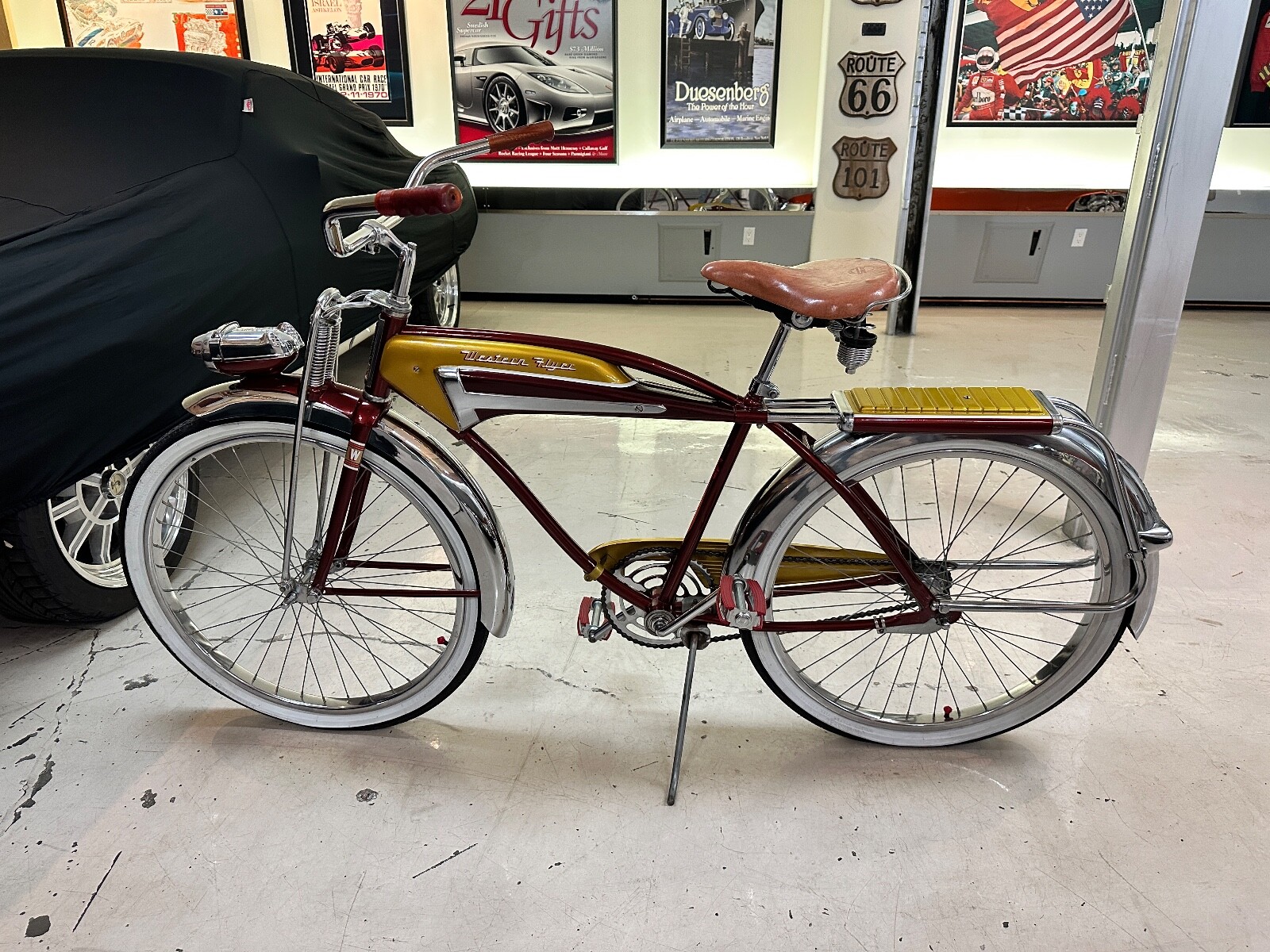 1958 WESTERN FLYER X-53 BALLOON TIRE ICONIC ATOMIC AGE BICYCLE
(2575 USD)
The Western Flyer bicycle has established itself in history as one of the most iconic bicycles of the classical era. No wonder why these bicycles are among the most sorts after collectibles.
Before adding a Western Flyer to your vintage bicycles collection, let's get to know these bicycles better.
Who Made the Western Flyers
The Western Flyer bicycle was the hallmark of the Western Auto Supply Company, which was founded back in 1909. The company initially consisted of a few automotive parts stores. However, in 1921, it started producing bicycles, and around 1930 the Western Flyer was born. The brand was synonymous with high quality and decent prices, which made this model as one of the enduring brands of the early 20th century.
Although Western Auto Supply owned the Western Flyer brand, along the years other manufacturers were producing Western Flyer bicycles. Some of the major Western Flyer manufacturers were:
These different manufacturers produced different designs, and in most cases, even the quality amongst manufactures differed to a certain extent. Take a look at some different Western Flyers made by different makers:
Western Flyer's Life Cycle & Characteristics
Did you know…?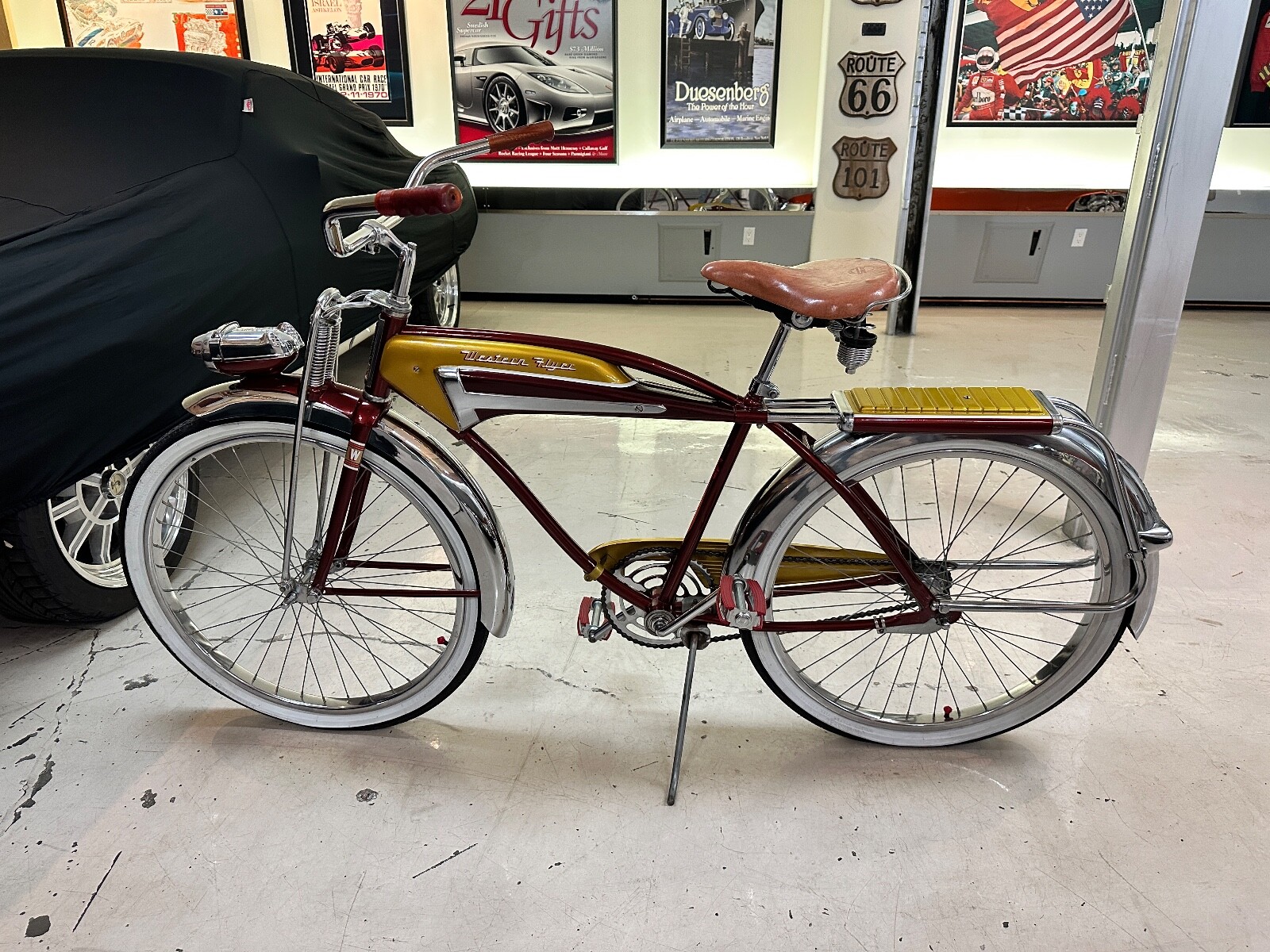 Did you know that when Western Flyer bicycles were first produced by the Western Auto Supply Company, they only cost about $75?
Even in the 1940s and 50s, this was not a very large sum of money for a bicycle. In fact, Western Flyer bicycles' main draw in those times was their reasonable prices which made them accessible to the masses.
How times have changed – Western Flyer vintage bikes
are now some of the rarest, most highly coveted bikes around.
The Western-Flyer bicycles were first introduced during the 1930's, and were produced almost continuously until 1959. During this period, few of the models made it into the classics. Some of the best examples include the Speedline Airflo (1930s) and the Western Flyer X-53 (1950s).
The Western Flyers were renowned for their constant innovation. For instance, the Western Flyer X-53 featured a revolutionary new frame design made from hydrogen-brazed seamless steel.
Like the renowned Swiss Bicycles, this Western Flyer X-53 was built as a very sturdy machine. However, it was also quite heavy, weighing in at 76 pounds. Each year, different models would feature different colors. In fact, you can still use the serial number to identify the year of production of each bicycle.
Price and Availability
Today, you can only get your hands on one these classics through actions
or at antique shows. Prices of these bikes are usually in the range of $100-$1000, depending on their model and condition.
You may even stumble across a battered Western Flyer bicycle every now and then. If you have the energy and patience to fully restore the bicycle, you can resell it at a higher price or add it to your collection. However, bicycles in excellent original condition are still the most prized ones.
Unless you personally know the seller and sure of the authenticity of the bicycle it is generally not recommended to buy this vintage bicycle or any other classic bicycle on the internet. The problem is that these bikes are quite rear, and the Internet might be the only way for you to get them. In this case, I would recommend trying finding them at a trusty web site like eBay
. I find it very reliable source for this and other types of bicycles.
If you do locate a vintage bicycle for sale online, make sure you check the serial numbers and design features to ensure that you are not buying a fake. You can find many Wester Flyer bicycles on eBay
. Take a look:
"I don't know the key to success, but the key to failure is trying to please everybody."
Bill Cosby