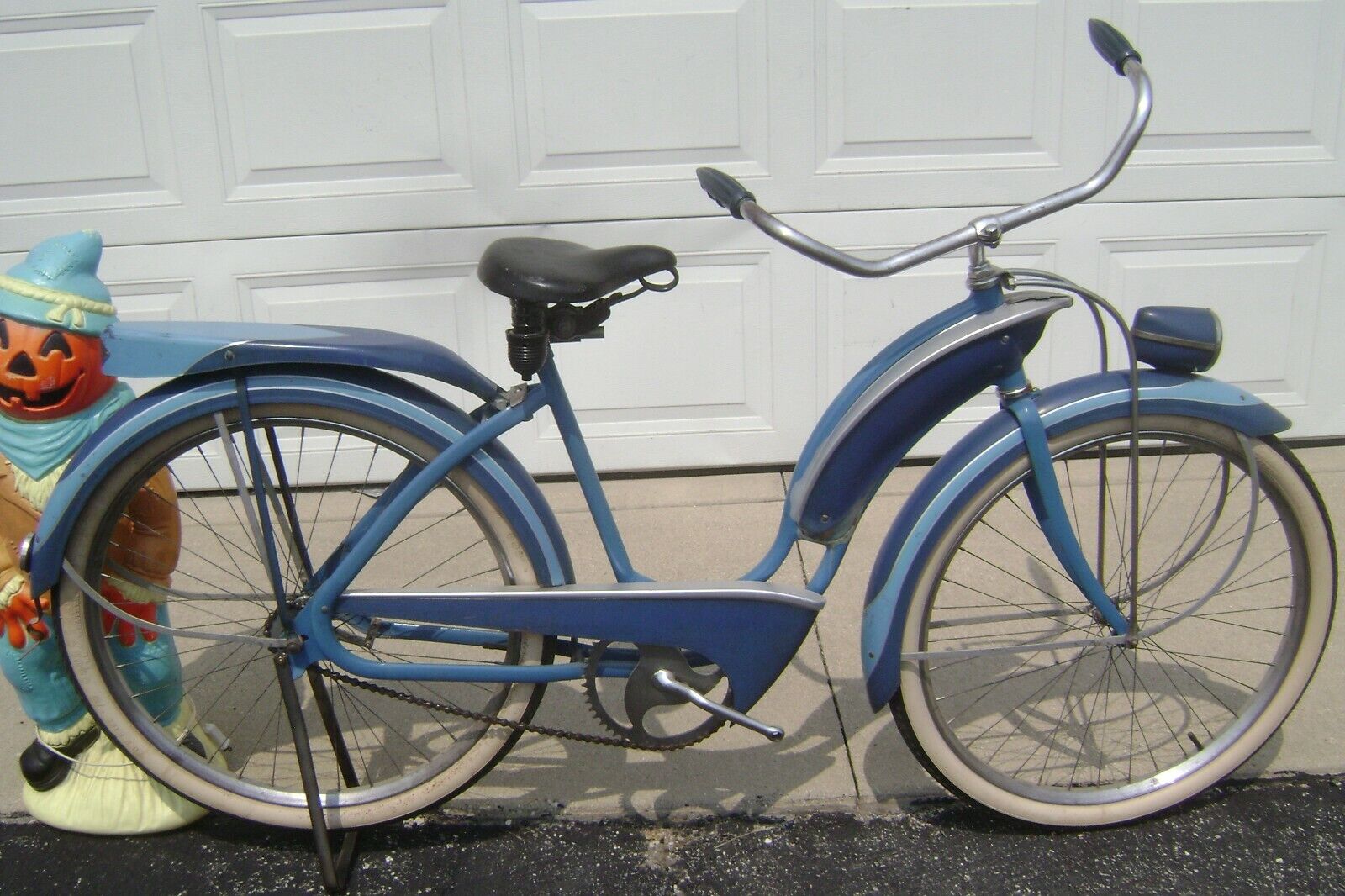 40'S PRE-WAR COLSON GOODYEAR DOUBLE EAGLE ORIGINAL CLIPPER BICYCLE-BISCUIT LIGHT
(Used - 1499.99 USD)
Find more vintage Colson Bicycles on eBay.com
Colson bicycles were sold between 1917 and 1953 under many different retailers, primarily Goodyear and Firestone. These bicycles have a good reputation, and they are often sought after by vintage collectors. Even though bicycles were only a small portion of what the Colson Company produced, they had some great products and famous bicycle names.
History of the Colson Company
The Colson Company's beginnings were in Ohio in the 1880s when Winslow Fay began the production of bicycles and adult tricycles. He sold his products to a man named Arthur Garford, and Garford hired a salesman named Fred Colson to sell these products. Therefore, in 1917, Colson bicycles were born.
The Fairy Cycle was one of Colson's most famous, and first, bicycles. This bicycle was trendy in the 1920s, and it was marketed to children in the United States and Great Britain. For many people during this time, the Fairy was the first bicycle they or their children ever owned.
Most Colson bikes were sold by different retailers, and they usually carried the names of the retailers selling them. The primary brand names Colson bicycles were sold under were Firestone and Goodyear, but they also had much smaller names, including local shops and hardware companies of the time.
The Colson Company produced many different bicycle models. One of their more famous models was the "Motorbike." Other models, designed exclusively for retailers, include the "Clipper," Firestone Cruiser, and Super Cruiser. Some of these models were only built for one year, so they are highly sought after in the vintage world of cycling.
The Colson Company manufactured bicycles from 1917 to 1953 in Ohio before being bought out by a different company. In 1954 a company called Evans Products purchased the Colson bicycle division and rebranded many famous Colson bikes for different retailers, after which there were sold under the name Evans-Colson and eventually just Evans bicycles. By 1962, the Evans Company no longer produced bicycles, thus ending the era of Colson.
Did you know…?
Did you know that Colson was one of the only bicycle manufacturers to enter into a formal collaboration with Disney?
They incorporated Disney's best known icon into their bike designs with the creation of the Mickey Mouse Velocipede
in the 1940s and received widespread publicity at Disney trade fairs as a result.

Purchasing Colson Bikes
Mint Colson bikes are not easy to find, even on sights like eBay, but they do exist. Because they are rarer than some bicycles, they usually fetch a pretty reasonable price. Mint Colson bikes can usually get anywhere from $500.00 to around $1000.00.
Non-mint Colson bikes, usually get around $200.00 unless you find an old or rare one. In that case, even if the bicycle is not in mint condition, it can fetch between $300.00 and $700.00. For more information, take a look at these Colson Bikes on eBay:
Conclusion
Colson bicycles carry a lot of nostalgia for a lot of different people. These bicycles, scooters, and tricycles were sold in the 1920s and 1930s. Nowadays they remind many people of their childhood. These bicycles are great additions to any vintage collection.
"I don't know the key to success, but the key to failure is trying to please everybody."
Bill Cosby